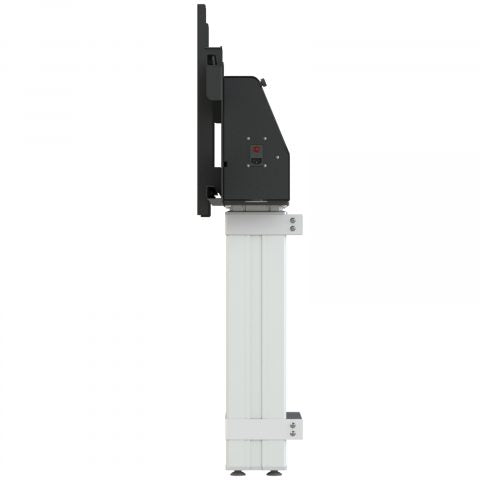 Hi-Lo® Mono 500 Electric Wall to Floor Screen Lift 42″-86″ max 130kg
Screen size42" to 86"
Screen weightUp to 130kgs
Vesa mounts

From:

200 x 200


To:

800 x 600
Height adjustmentElectric
Floor to centre of mount 
Lowered:872mm

Raised:

1372mm
Warranty5 year on-site
If outside the U.K. please contact your local partner/service centre.
Single column wall to floor mounted electric screen lift.
tech specs
Heavy duty electric operation with reinforced welded brackets for displays and touch screens up to 86″.
Max screen weight 130kg.
Smooth electrical operation raises and lowers the screen by 500mm, allowing all users access to the display.
Suits VESA patterns up to 800mm wide x 440mm high.
For VESA mount patterns to 800mm x 600mm high use optional bracket set 8975.
Height from floor to centre of screen:
Lowered 872mm
Raised 1372mm
Includes levelling feet for a perfect installation.
Includes 2 sets of plasterboard installation brackets with multiple fixing points for a sturdy installation. The floor standing electric wall mount allows the weight of the large format display or touch screen to be taken directly to the floor. The wall brackets act as a restraint.
Includes integrated 4 way power strip to power the screen and peripherals with just one cable to the mains socket.
Includes 3m hi-vis mains input cable for additional safety.
Switched, fused power inlet also includes 3 additional IEC outlets in addition to the 4 way power strip.
Cables are tidied away within the mount head and then covered with the ventilated grille for a professional installation.
For additional safety when being used in vulnerable environments such as with young children in nurseries, those in SEN environments or wheelchair users, add Hi-Lo® Anti-Crush Bar for Flat Screen 1.00m code 8973. The discrete pressure sensitive bar is adhered to the underside of the screen and cuts out power to the motor at the slightest contact.
5 year on site warranty.