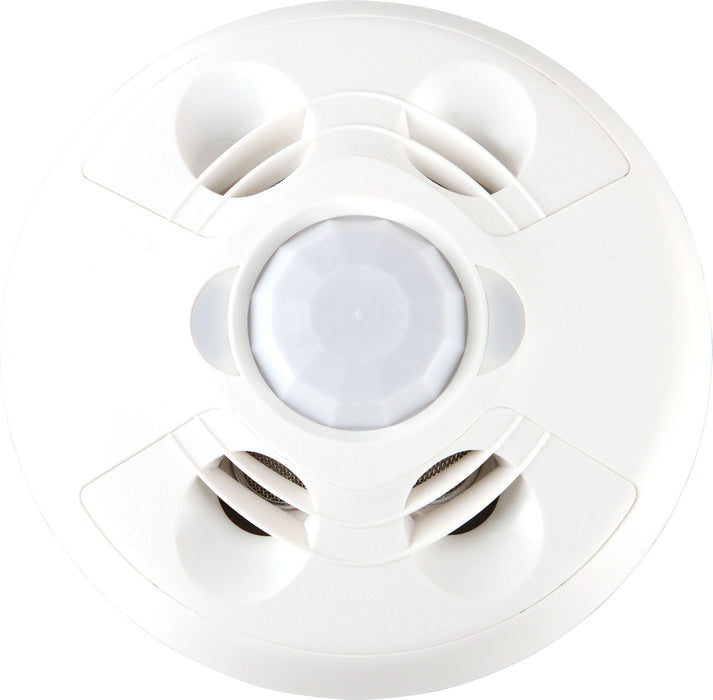 Dual-Technology Occupancy Sensor with Cresnet, 2000 Sq. Ft.
This item is nonreturnable and noncancelable.
The Crestron® GLS-ODT-C-CN sensor features accurate, dual-technology occupancy detection in a large room or space and delivers a powerful and cost-effective solution for reducing energy consumption and enhancing the functionality of lighting and environmental systems. The GLS-ODT-C-CN is a low-profile, ceiling-mounted occupancy sensor designed for areas up to 2,000 square feet, making it great for use in large spaces such as auditoriums, warehouses, and building lobbies.  Reliable Cresnet® wired communications directly connects the sensor to a Crestron control system for integrated control of lighting, climate, and other devices in the room.
Dual-Technology Occupancy Sensing
Achieving consistent and dependable occupancy sensing is accomplished using a combination of ultrasonic and passive infrared (PIR) sensing technologies. Ultrasonic motion detection is highly sensitive to small movements over a large area, while passive infrared sensing ensures superior immunity to false triggers from vibrations, inanimate objects, or movement in an adjacent corridor. Ultrasonic motion detection can be turned on for Side A, Side B, or both sides of the occupancy sensor to avoid false occupancy readings when the sensor is facing a hallway or doorway. The GLS-ODT-C-CN provides independent sensitivity adjustment for each sensor type for optimum performance in any space.
Specifications:
Sensing
 
Sensor Technology
Passive infrared and ultrasonic (40 kHz)
 
Ambient Light Recognition
Built-in photosensor (0-1000 lux)
 
Coverage Area
2,000 sq ft
 
Coverage Pattern
360 degrees
LED Indicators
 
IR
(1) Red LED, indicates PIR detection
 
Ultrasonic
(1) Green LED, indicates ultrasonic detection
Controls
 
(1) Pushbutton located behind the front cover for testing the unit
 
Connections
 
EXT
(1) 5-pin 3.5 mm detachable terminal block;
Cresnet® slave port and external photosensor input
Environmental
 
Temperature
32° to 104° F (0° to 40° C)
 
Humidity
10% to 90% RH (non-condensing)
Power Requirements
 
Current Consumption
60 mA at 24 Volts DC
 
Cresnet Power Usage
1.5 Watts
Enclosure
 
Housing
Plastic, white
 
Mounting
Mounts to a 4" (102 mm) octagon box or ~3-1/2" (88 mm) diameter hole created by provided cutout template;
Includes mounting screws and integral toggle clamps;
A 1-1/2" (38 mm) minimum mounting depth is recommended
Dimensions
 
Diameter
4.80 in (122 mm)
 
Depth
2.30 in (59 mm) overall, 0.97 in (25 mm) exposed
Weight
 
5.1 oz (144 g)
Please contact us for any questions regarding this product.