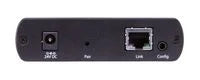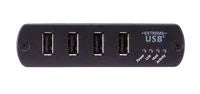 USB over Ethernet Extender with Routing, Host Module
This item is noncancelable and nonreturnable.
Crestron® provides the USB over Ethernet Extender (USB-EXT-DM) with the ability to connect USB peripherals at multiple locations throughout a home, business or educational facility and route them to one or more different computers (or other hosts) anywhere in the building. The USB signals are transported over the local Ethernet network and managed through a Crestron control system.
As part of a Crestron DigitalMedia™ system, the USB-EXT-DM provides seamless routing of all types of USB signals alongside video and audio. From any room with a video display, you can switch between several different computers, media servers, and game consoles anywhere in the building and control each one using your mouse and keyboard, game controller or electronic whiteboard.
The USB-EXT-DM expands on DigitalMedia's built-in USB HID routing abilities, adding enhanced USB connectivity to any DM® transmitter, receiver or switcher without requiring any additional wiring. Installation is as simple as connecting a USB-EXT-DM module to the LAN port of a DM transmitter or receiver, or to a port on the local area network.
The USB-EXT-DM-REMOTE - Provides connectivity for up to four USB devices (keyboards, whiteboards, mobile devices, etc.) at one location and the USB-EXT-DM-LOCAL provides connectivity for a single USB host (computer, media server, codec, etc.)
The USB-EXT-DM provides compatibility with virtually any USB 1.1 or 2.0 device, including smartphones, tablets, media players, cameras, printers, flash drives, hard drives, hubs and more.[2] So, in addition to controlling a computer with a mouse and keyboard, you can also sync your smartphone, upload photos, and share music and video files with that computer — all from clear across the building.
Without a control system or DigitalMedia system, USB-EXT-DM modules can be used to provide simple, point-to-point USB signal extension, either over an Ethernet LAN or a dedicated CAT5e wire.[3] At least one device module (USB-EXT-DM-REMOTE) and one host module (USB-EXT-DM-LOCAL) are required to form a working system. The modules are sold individually to accommodate any system configuration.
Please contact us for any questions regarding this product.