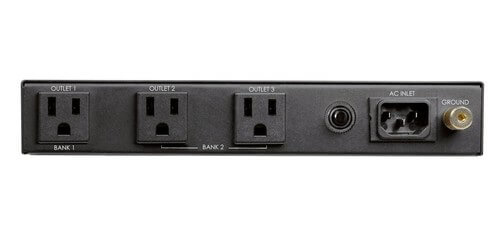 15A BlueBOLT Compact Power Conditioner, 3 Outlets
This item is noncancelable and nonreturnable. 
Featuring the SM3-PRO 15A BlueBOLT Compact Power Conditioner from Furman with three outlets, two of which are controllable outlet banks. This device protects connected equipment from dangerous voltage conditions (all three outlets) and from power surges. It filters AC for the best performance for the users equipment and also provides remote power, network management, and energy from any web enabled device thanks to BlueBOLT technology.
BlueBOLT Remote Energy Management is a free, cloud-based application that gives the user access to remotely control and monitor Furman power management products. With this technology, users can remotely power-cycle AV equipment, schedule power conservation, receive automatic alerts, as well as verify network connections. With remote communications technology, BlueBOLT provides a straightforward way to manage electronic components via the internet from anywhere in the world.
This unit reduces service calls and equipment issues with remote hard reboots. With scheduled on/off commands, it reduces excess energy consumption. It automatically reboots network equipment any time connectivity is lost. This power conditioner is ideal for network equipment hubs, entertainment systems (behind flat panel TV), and digital signage. It is backed from Furman by a three year warranty.
Additional Features of this Power Conditioner Include:
2-Port Network Switch
AVM + Protect-or-Disconnect Protection
2 Accessory Ports for External Sensors/Triggers
Front panel bank override buttons and indicator lights
Specifications
UL 1449 Nominal Discharge Current: 3,000A
Initial Clamping Level: 200V
Port Ethernet Switch: 2x RJ-45, 10/100Base-T
BlueBOLT Enabled
Overvoltage Shutoff: 134 Vac 2 Vac
Undervoltage Shutoff: 95 Vac 2 Vac
EMI / RFI Noise Filtration: -15.9dB @ 10kHz, -43.5dB @ 100kHz, -49.3dB @ 1MHz
Included Items: Mounting Kit
Dimensions (LxDxH): 10 x 7 x 1.6"
Weight: 4.8 lbs.
Please contact us

 for any questions regarding this product.