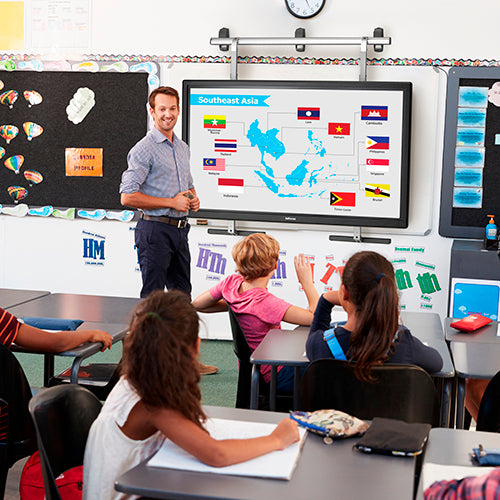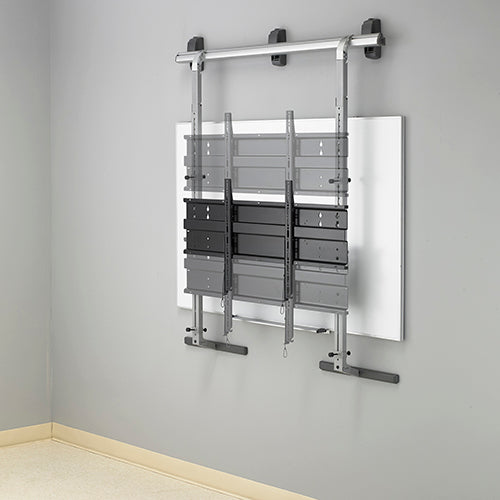 Over-the-Whiteboard Interactive Display Mount
The Over-the-Whiteboard Interactive Display Mount allows for easy installation and adjustment of heavy interactive flat panel displays over existing chalkboards or whiteboards. The mount comes largely pre-assembled with minimal hardware, reducing installation time. It also provides height variability to accommodate younger children or those seated at lower levels.
Key Features
Accommodates typical large displays between 50-80" and VESA® up to 1020 - 500 mm, to extend to VESA® 1020 x 600 mm specify FHB7036 bracket for M6 screws, or specify FHB7037 bracket for M8 screws.

Heavy-duty weight capacity of 310 lbs (140.6 kg)
Display height adjustment range of 26" (660 mm)
Interface brackets mount directly to display, then hang on single rail-style cross bracket, eliminating need to remove display from box prior to installation
Installs into various wall types (wood, concrete, steel, cinder-block)
Flexible wall assembly anchoring points ensure a minimum of two studs are used - three brackets for 16" on-center studs, or two brackets for 24" on-center studs are included
Integrated lateral shift allows for easy adjustment left or right
When installed, mount allows for a minimum of 4" (102mm) clearance from wall
Plumb adjustment up to 1.5° to compensate for uneven walls
Telescoping legs allow mount to be adjusted easily around classroom obstacles
Color
Silver
Lateral Shift
6-5/8" MIN to 10-5/8" MAX (168 - 269 mm)
Mounting Pattern Compatibility (Universal Versions)
400 x 100 – 1020 x 500 mm (Specify FHB7036 or FHB7037 to extend to VESA 1020 x 600 mm)
Notes
Display height range: 26" (660.4 mm)
Overall Dimensions (H x W x D)
61.1-75.1 x 55.25 x 6.3" (155.2 – 190.8 x 140.3 x 16 cm)
Typical Screen Sizes
42 - 100"
Weight Capacity
310 lbs (140.6 kg)