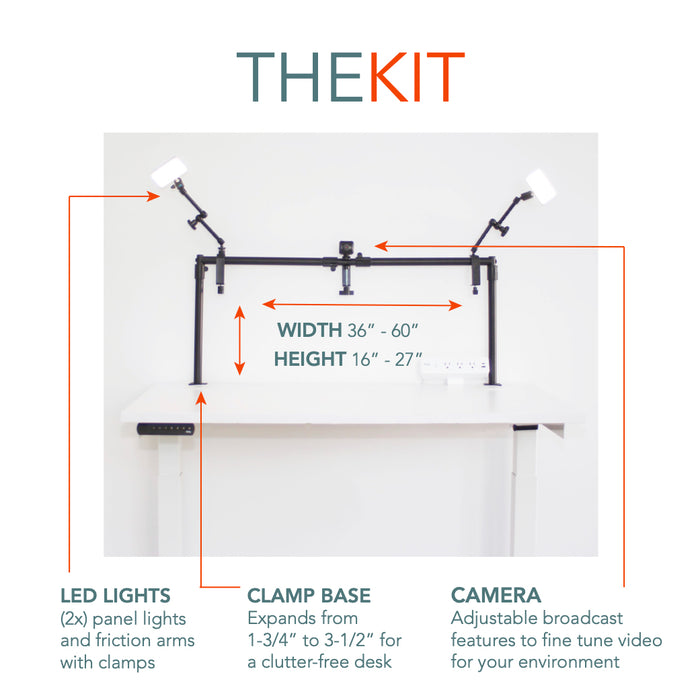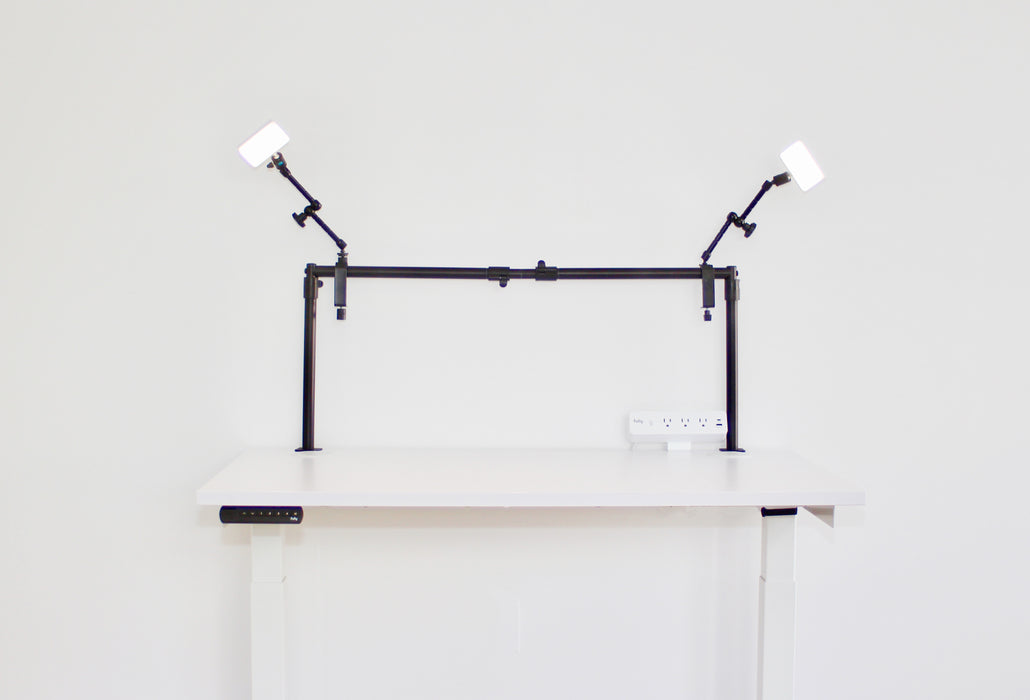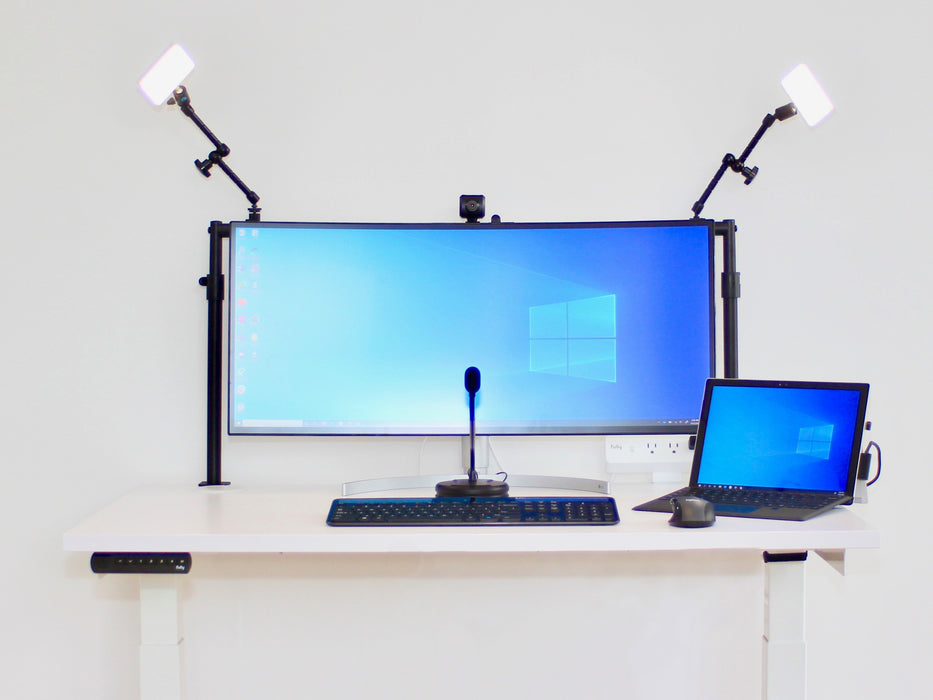 Work-From-Home Video Conference Kit
Transform your home office into a professional video conference setup. This custom, height and width adjustable desktop stand and presentation kit includes two full spectrum LED light kits, and optional add-ons for everything you need to present like a pro from home. 
 Click the tabs below to learn more.
CUSTOM DESKTOP STAND

Think of your desk as prime real estate. Our custom n-shaped telescoping tube assembly with clamp base fits nearly any desk size with adjustable height / width 1" tubing assembly - so you can keep your professional conferencing technology in reach without it cluttering your desktop.

Base table clamps for 3/4" to 3-1/2" thick countertops
Height adjustable from 15" to 27"
Width adjustable from 38" to 60"
Easy to assemble - no tools required.
Wire / cable management - Velcro® Brand Perforated Straps - 1⁄2 x 6", Black
LED LIGHT KIT

Includes two LED panel lights with friction arm attachments. These panels capture the power of adjustable bicolor light in a portable, credit-card-sized package. With an easy-to-use display screen, a frosted lens for built-in diffusion, and versatile brightness and color temperature adjustability.

1% - 100% Brightness Adjustability (in 5% increments)
Full Spectrum LED Light
3200k - 5600k color adjustability (in 100k unit increments)
Built-in Intelligent LCD Display showing brightness, color temp, and ERT (Estimated run time)
Adjustable Dial for Increasing/decreasing brightness and color temp
USB Type C Charging
Dual 1/4" 20 tripod mounts (Bottom and Side)
Frosted lens for soft diffusion
Silicon White Diffuser inside the box
60 premium LED's for high powered bi-color adjustability
MINI BROADCAST CAMERA (OPTIONAL)

A straight forward USB3.0 HD camera with interchangeable lenses, software agnostic for universal application, settings adjustable - offering simple plug-and-play connectivity to any Mac, PC, Laptop or Linux system. Commonly used in professional broadcast production, sportscast, newscast, television production, and a variety of other professional broadcast quality applications.

Miniature broadcast quality - Adjustable features such as White Balance, Black Levels, Exposure, Gain, Gamma, and many more.
Two lens options included: 3.6mm, F2.0 3MP M12 lens; Horizontal Angle-of-View = 72° | 6.0mm, F2.4 3MP M12 lens; Horizontal Angle-of-View = 48°
Ships with a locking six foot USB3.0 cable, so USB cable can't be pulled out during video streaming or collaboration.
DESKTOP MICROPHONE (OPTIONAL)

Consistent sound quality without the headset! Stylish, slimline, flexible goosenecks with cardioid condenser microphone for use in boardrooms, conferencing and a wide variety of applications with this unobtrusive microphone and stand.

Slimline unobtrusive design
Engineered in high quality brass
Finished in satin black
CURVED 34" MONITOR (OPTIONAL)

Discover precision performance on a 34" curved (Curve radius 1900R) USB-C monitor that elevates your work and entertainment.

The monitor's USB Type-C interface allows 4K video display, data transfer, and laptop/mobile device charging, all at the same time over a single cable. This translates to reduced cord clutter and increased efficiency.
Picture-In-Picture (PIP) and Picture-By-Picture (PBP) features enable you to view content from two different computer sources simultaneously.